With Christmas only 10 days away, don't panic and find the perfect present with Gentlemen's Tonic this christmas, from gift sets to stocking fillers we can help have Christmas covered. Check out our Christmas picks for 2017.
FOR THE GYM GOER:
We all know 'that' guy who spends every spare moment and more in the gym. Our luxury shower products is the perfect gift to give as an addition to someone's gym bag. Our naturally formulated shampoo gently cleanses and revitalises the hair and scalp by removing excess build up caused by hair products and sweat. It is suitable for all hair types and can be used daily. Our best selling gentle body wash is the perfect product to use after a work out. It cleans and energises while maintaining the skin's natural moisture balance.
250ml Gentle Body Wash – £15.00
250ml Daily Shampoo – £16.50
Shower Gift Set – £45.00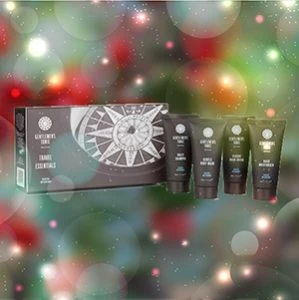 FOR THE SEASONED TRAVELLER:
New to the Gentlemen's Tonic product family this year our Travel Essentials sets is the ideal combination of best selling Gentlemen's Tonic grooming products to take when travelling – Gentle Body Wash, Daily Shampoo, Classic Shave Cream, Daily Moisturiser. Any seasoned traveller can pack these 50ml tubes with them anywhere in the world, or if you need several stocking fillers then you can always take the individual tubes out of the box and use them as the best stocking fillers ever.
Travel Essentials Set – £29.00
FOR THE AESTHETICALLY CONSCIOUS GENTLEMAN:
There is always one person on my Christmas list every year which I always have trouble buying something for and it always happens to be a guy who is really picky about what he uses and the brands that he uses. Our Advanced Derma Care range is the perfect gift for any aesthetically conscious man. The Gentlemen's Tonic Derma-Care range is the world's first cosmeceutical skincare range designed exclusively for men and dedicated to the preservation and well-being of their skin. Any product from this range would be a great present but especially our Power packed Nourishing moisturiser or Hydro Fresh cream cleanser. These two products moisturise while maintaining the skin's natural moisture levels. Making sure that every layer of the skin is taken care of. A big step up from any 'normal' grooming products which you can buy.
Power Packed Nourishing moisturiser 100ml – £89.00
Hydro Fresh Cream Cleanser 100ml – £39.00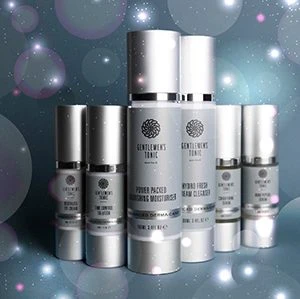 FOR THAT SPECIAL SOMEONE:
For an extra special men's grooming gift look no further then a gift voucher for a visit to any of our Gentlemen's Tonic sites worldwide. From a Traditional wet shave to a relaxing bespoke facial and massage this is bound to make anyone relax and feel special. If you want to go big then one of our designed packages with the perfect combination of Gentlemen's Tonic treatments is the perfect present. One for the heavy party goer is "The Hemingway" package perfect for the day after the nights before to get you refreshed, complete with a aromatherapy facial and massage topped off with a bloody mary. Our gift vouchers are valid for 12 months from the date of purchase and can be used at all of our international locations.
The Hemingway Package – £150.00
All Gentlemen's Tonic products and gift vouchers available on our online shop.